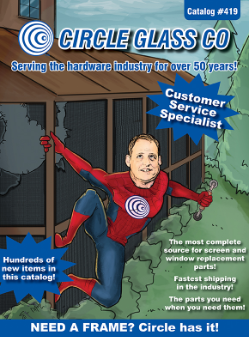 1.

Download the entire catalog or a popular section

2.

Find your parts

3.

Place order
Why Hardware Stores and Glass Shops Choose Circle Glass Company
We support the independent hardware stores and glass shops that are in need of in-stock parts, ready to be shipped at any time.
Circle Glass is a wholesale distributor only
We do not sell to the public.
Circle Glass Company was founded in 1965. We began as a distributor of glass, glazing supplies, and glass processing tools to glass shops and hardware stores in the Midwest.
When you call Circle Glass, you will speak with an expert that knows the answer to pretty much anything in the industry. Because of our experience, we've seen it all.
Today, we carry a complete line of screen and window repair products along with glazing supplies, commercial door hardware and a quality line of tools.
We are dedicated to customer service and strive to not only have every part in stock but to complete and ship your order on the same day. We also have a variety of billing options. Customers can use a major charge card, bill through a hardware co-op, COD, or bill through a Circle Glass commercial account.
Circle Glass has billing arrangements with the following hardware co-operatives. Circle can bill your invoice through your co-op account in most cases. Contact our customer service staff for more details.
Got a head-scratcher?
Not sure what you need?
The Circle Glass team knows 100% about every product and
how to help you with your situation. If you need any help –
just ask us!
Reach out with any questions you've got and we'll get back to you right away.
8801 Fenkell Ave.
Detroit MI 48238